OVERVIEW
---
The U.S. stock market notched a second week of positive returns, which saw the S&P 500 rise by 0.61%, the Dow gain 0.66%, and the Nasdaq increase 0.48%.
Small-cap and value stocks were the week's biggest gainers, rising about 0.85% each. Growth stocks rose a smaller 0.3%.
International stock returns were strong, with developed countries gaining 0.7% and emerging markets rising 1.53%.
Bonds had another good week as interest rates continued to tick lower. As a result, long-term Treasuries gained 0.74%, investment-grade corporate bonds rose 0.23%, high-yield (junk) bonds increased 0.28%, and municipal bonds gained 0.13%. Only inflation-protected Treasuries had negative returns for the week, falling 0.23%.
Real assets fared well. Real estate registered solid gains of 2.66%, while commodities rose around 2%. Oil and corn both rose about 4%, but gold fell 0.7% for the week.
The U.S. dollar was just marginally higher by about 0.08%.
KEY CONSIDERATIONS
---
Fighting Back – The U.S. stock market hit an all-time high about a month ago and trended lower over the next few weeks. But after two positive weeks in a row now, it appears that stocks have mounted a bit of a counteroffensive.
Here's what I mean. A few weeks ago, the 85-day Stochastic Indicator (shown below) dropped below its upper signal line. This indicator helps us determine if stock price momentum is rising or falling. So, when it fell below the upper signal line as it did a few weeks ago, it was a warning sign that stocks were losing momentum, leaving them more vulnerable to a reversal.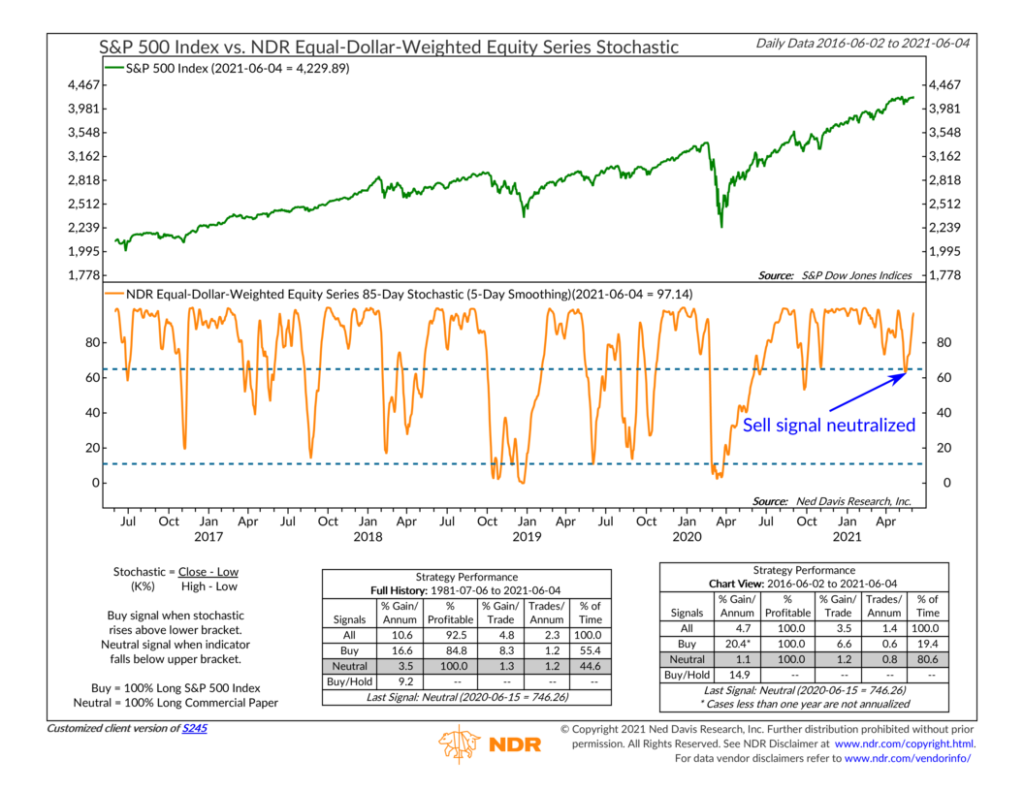 However, shortly after falling below the upper signal line, the stochastic indicator reversed course and rose back above the signal line, neutralizing the negative signal. These neutral reversals (as I'll call them) tend to happen from time to time, and they're a sign that the initial slowdown in price momentum was not as weak as previously indicated.
This will be one area we'll be watching in the coming weeks. By following the data trail, we can see if the recent indicator deterioration is poised to reverse—like our Stochastic indicator above—or if things are going to continue to the downside.
This is intended for informational purposes only and should not be used as the primary basis for an investment decision.  Consult an advisor for your personal situation.
Indices mentioned are unmanaged, do not incur fees, and cannot be invested into directly.
Past performance does not guarantee future results.
The post Fighting Back first appeared on NelsonCorp.com.
CMR Financial Advisor, Inc.